IDR Intelligent Data Receiver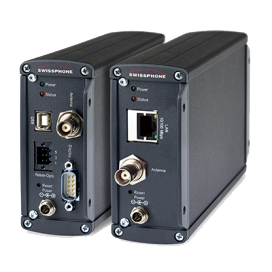 Outstanding reception characteristics
32 addresses (RICs) with 4 sub addresses each (128 discrete alert addresses)
Message output via RS232 or Ethernet
The IDR300, IDR250 and IDR200 receivers can output messages via an Ethernet interface or an RS232 interface.
IDR300 – LAN
IDR250 – USB RS232 I/O
IDR200 – USB RS232
IDR 200/250 features one isolated relay output as standard. Six outputs can be actuated as an option. These outputs can be actuated individually and easily via the POCSAG network. Messages can be shown, for example, on a LED Scrollboard via the RS232 interface. Message text output and the outputs themselves can be actuated independently of one another.
IDR300, IDR 250 and IDR200 can be used in encrypted networks (IDEA™ message encryption [128-bit]). This enables, for example, outputs only to be switched if the correct key was used when the message was sent. Time authentication is supported to prevent replay attacks.